Getting Here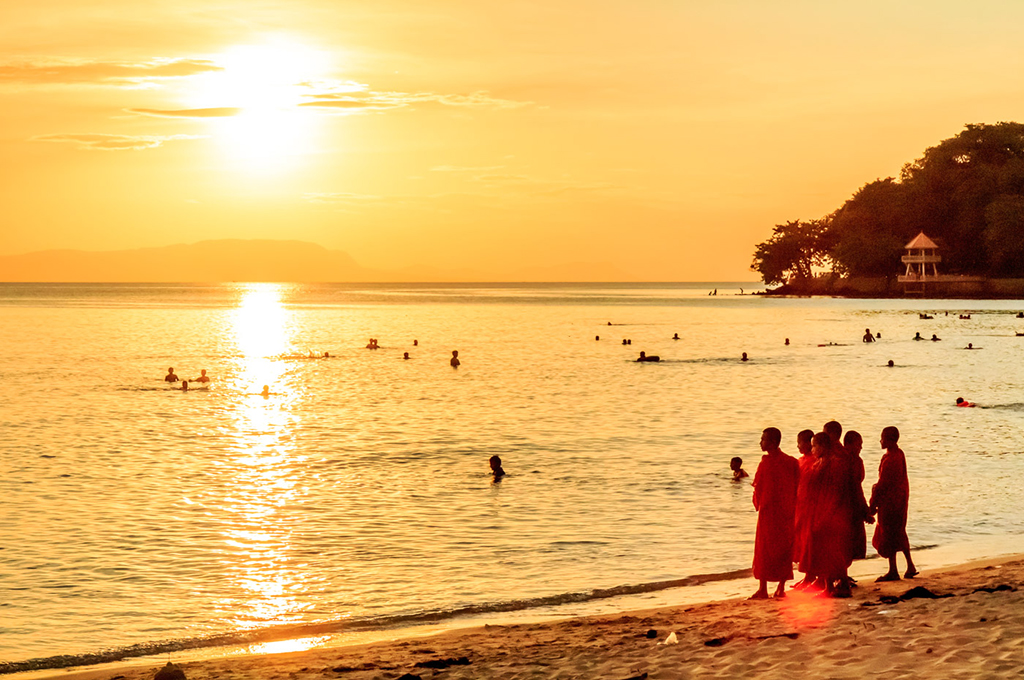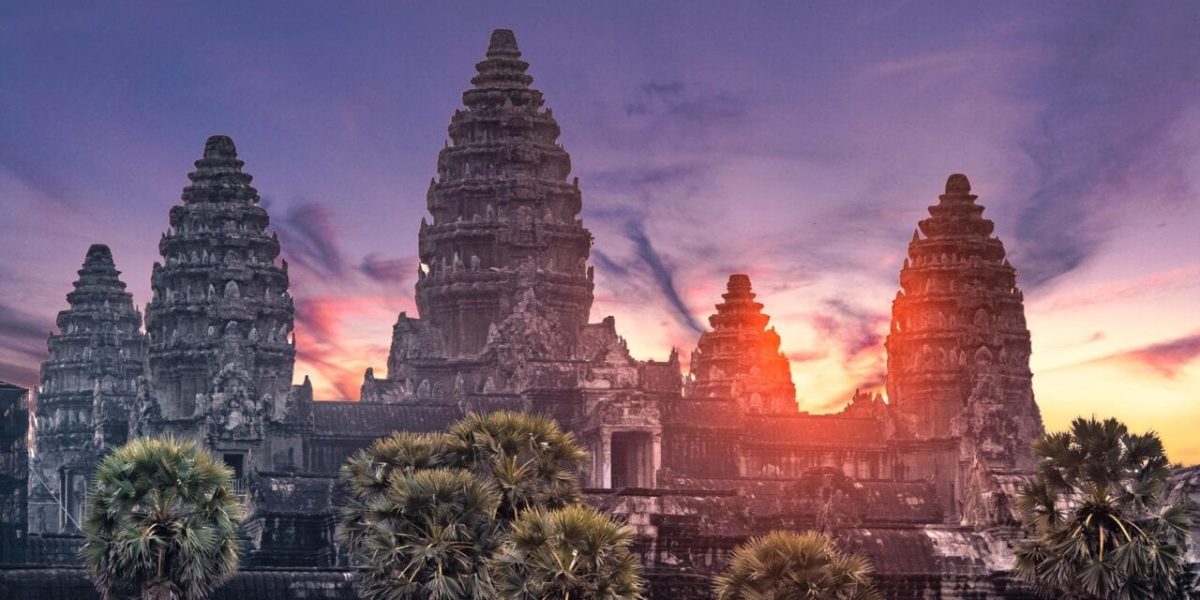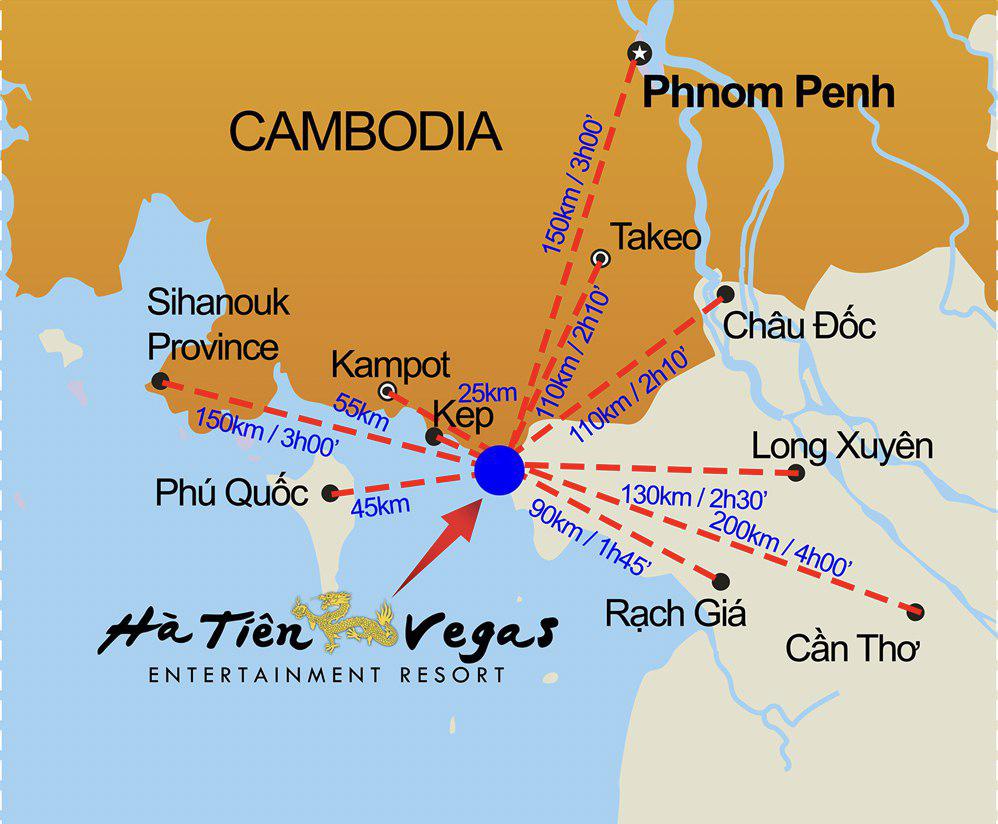 Ha Tien Vegas Entertainment Resort is a premier hotel and entertainment resort located in Prek Chak (Kampot Province, Kingdom of Cambodia) near the Cambodian-Vietnam international border.
Cambodia
Cambodia's tourism is booming, with the Cambodian people welcoming visitors from across Asia and the world. Ha Tien Vegas welcomes all of our Cambodian and international guests.
Phnom Penh – The Cambodian capital
Cambodia's capital is easily accessible from Ha Tien Vegas and is only 150KM from Penh Penh and the international airport which offers a growing number of international flights to Cambodia.
Kep – Cambodia
Kep is a popular Cambodian holiday destination and is not far from Ha Tien Vegas. The seaside town lies about 25KM from Vietnam-Cambodia Prek Chak international border. The Kep National Park, Kep beach, crab markets, and Butterfly Farm are all attractions. Visitors can also travel from Kep to Phnom Penh via taxi or bus.
Kampot – Cambodia
Kampot City and the nearby Bokor National Park are also popular destinations in Cambodia. Kampot is only 55KM or 45 minutes by car from the Ha Tien Vegas resort and the Cambodian-Vietnam border crossing. Kampot also is also only two and a half hours from the capital of Phnom Penh. The trip from Kampot to Phu Quoc is a short one and takes you via Ha Tien Vegas. Visitors can enjoy the plentiful Kampot hotels, Kampot pepper and Kampot beach on their visit.
Sihanoukville – Cambodia
The biggest coastal city in Cambodia is 3 hours from Ha Tien or only 150KM. The seaside city has expanded rapidly and has the biggest collection of seaside resorts in the Kingdom on the Sihanoukville beaches. Sihanoukville hotels and casinos are easy to get to from Ha Tien and the Sihanoukville International airport offers domestic flights to Phnom Penh and Siem Reap.
It is easy to travel from Sihanoukville to Phu Quoc, via Ha Tien Vegas.
Siem Reap
The location of the world-famous Angkor Wat, one of the largest religious complexes in the world and is the famed religious site is a UNESCO World Heritage site. Siem Reap is easily accessible by flights from Sihanoukville and Phnom Penh.
Vietnam
Ha Tien Vegas is reasonably close to popular Vietnamese cities like Long Xuyên, Châu Đốc and Can Tho and Ho Chi Minh City can easily be accessed via flights from the airports, or by bus.
Phu Quoc Island – Vietnam
The increasingly popular island offers an ideal getaway and the Phu Quoc hotels and other places to visit in Phu Quoc is a short journey from Ha Tien. The Phu Quoc island express ferry only takes 1h and 15 minutes and we are located only 15 minutes (10KM) from the ferry.
Rach Gia
Rach Gia is only 90 kilometres to the Prek Chak Cambodia – Vietnam international border crossing. Rach Gia hotels and airport offers an ideal short stay and travel access on the way to Cambodia
Ha Tien Vietnam
Located only 6KM from the Vietnam – Cambodia border crossing, there are some Ha Tien hotels, but Ha Tien Vegas is the largest in the area.